(This appears to be in only some languages. I see it in Italian but not German.)
I'm not sure how I feel about this one yet. I think needing to type out a sentence (from listening mode) is a pretty useful addition to the arsenal, despite me being one of the strongest advocates for speaking mode.
(From vocabulary mode, I would say that it's less useful because you would have to be doing All Translation All The Time. This is one of the things that I loathe about DopeyLingo; it thinks that the way to learn to speak a language is to constantly draaaag you back to English, always English, by translating, and more translating. In Vocabulary mode for a STANDARD (single word) cloze, you can work out the missing word from context, usually, mostly. However for a full transcription in Vocab mode the only thing that you would have to go on is the English translation. True, you can still hear the audio with [Ctrl]+[Space bar], but in that case you may as well be doing it as a listening exercise, not a vocab one.)
I'm not so sure about the need to match the capitalisation and punctuation EXACTLY though. I can see both sides of that argument. The first couple that I tried were "wrong" not because of the words but because of an omitted comma or full stop.
Which brings me to a key issue.
I turned on the English translation on the one shown below for illustration purposes. Previously I had heard the audio and knew that this was in Lei form, not tu form and that the first word was thus È, not Sei.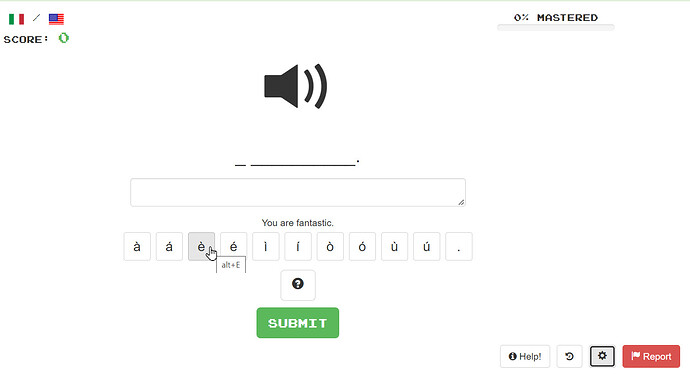 BUT… while there are buttons below the input box to input accented characters, they are lower case only. And as noted above, Transcribe Mode DEMANDS that both case and punctuation match. So when I click that button, this is the input: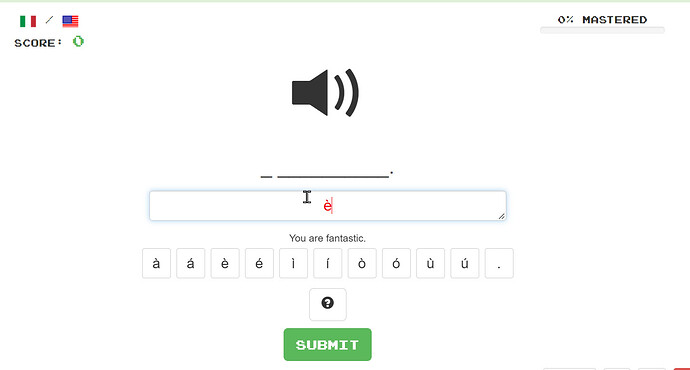 Big, glowing red, telling me that the input is wrong.
The only way around this is if you know dead keys or alt keys syntax by heart. In my case I've typed [Alt]+[0200] so many times that I know that it'll get me È, but that may not be the case for new learners.
Another issue is that the buttons show [Alt] keys as shortcuts for the accented characters; [Alt]+[E] for both of the accented E characters. [Alt] rarely works in a web browser because it's bound to menu keys. In Firefox if you type [Alt]+[E] you'll just get the edit menu, in Chrome you'll get the Customise menu pop up.
Another issue is that it would probably be best to remove the proofing language from the input text box. It seems to be expecting English, so if you enter any other language (and obviously you will) you end up with more red squiggles than a paint factory with a leaking red paint vat.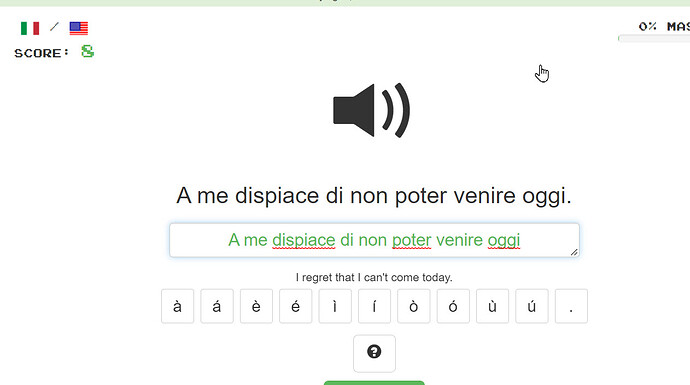 But for all that I should add… thanks for keeping the site moving with new features. It is indeed appreciated.