The option to search Tatoeba isn't as useful as it could be, as it triggers a loose search which is slow and often produces too many irrelevant hits to be useful.
Here is one example; I searched for Italian perdono, which took about 20 seconds (note that my search term is not among the top results):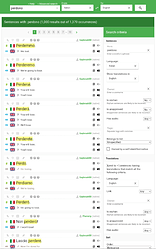 IMO it would be more useful to perform an exact search by default and maybe have the loose search as an option. The exact search is triggered by prepending an equal sign and enclosing the search term in quotes: ="perdono".