So for some reason I massively derped with this sentence, where for some reason my brain wanted to enter "stamattina" (even though that's clearly wrong), so I had typed "s" and it became green, but naturally it wasn't "stamattina", and so I was completely thrown. I couldn't think of what it could be except "mattino", but that doesn't start with "s", so I just accepted having to be incorrect, and then it turned out it was "mattino" after all…
So after discovering that, I tried again, and could get to "sar" being marked green and everything else wrong (also "sat", so it wasn't just the "mattino" and somehow accepting it to start with "s" too - I couldn't easily work out what it wanted after "sar" though), while entering any of the letters in "mattino" also became green at the same time.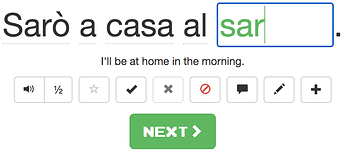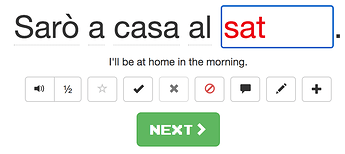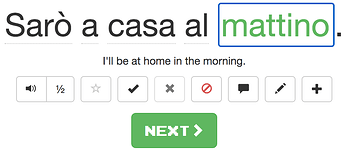 I haven't seen this behaviour before, where two different sets of letters will both turn up green, but then I wouldn't normally try many different ones, just 3-4 max perhaps for words with lots of synonyms and then often it can be a bit of a search for endings like "la", "lo", etc. if it isn't obvious from the rest of the sentence.
Apologies if this is the incorrect place to post it, and please let me know where else it would best go instead.