This is probably a niche issue since barely anyone seems to use speaking mode. (It seems to work only in web, only in Chrome, and only if you have permissions set just so, so there are rarely 10 people to fill out the leader board each week, at least in Italian.) However I'll raise it because when it works, it works well.
If the cloze is a number, whether it be a standard integer like twenty, fifty, etc, or a time value like two thirty, speaking will ALWAYS (in my experience) record it as a number. "20", not "twenty". "2:30", not "due e mezza".
However when the question uses the spelt-out words (which they usually do)… the speaking input which is forced into digits will NEVER match. An example can be seen below: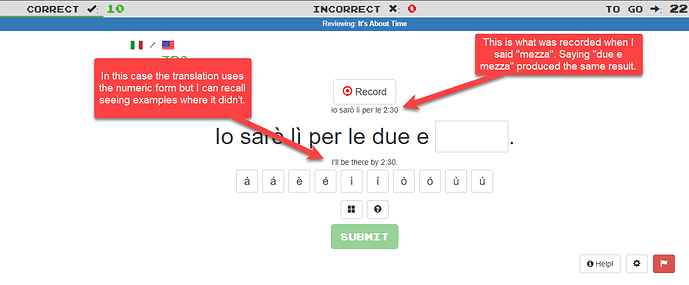 Could this be fixed, please?
Thanks.