I was playing a Cloze Collection, with the following settings: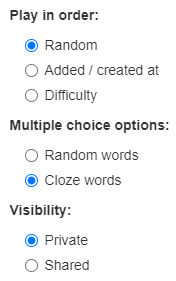 It was going well, but at somepoint in the round, the answering options were as following:
A
B
C
C
The last two options were actually the same word. I answered the exercise (correctly), and it caused a bug on all subsequent sentences until the end of the round.
C
D
E
F
G
C
H
I
J
K
Etc.
Instead of 4 options, from that point on, there were 5 options, the first one always being that repeating word.
This may be related with "Multiple choice options" being set to "Cloze words", as this is something I have recently started to play with and saw this happening for the first time.
This issue occurred on the Android app, I am not sure if it also happens on other platforms.