When the Hard, Easy and Normal buttons were introduced for "mastered" sentences there was an option to turn them off. Which I did. With bells on, because I want my review times to be MY review times.
A couple of days ago I noticed that (a) all supposedly "mastered" questions were coming up with the Hard, Easy and Normal traffic light buttons and (b) the option to turn this off seemed to have vanished. I wasn't worried as long as [Enter] still meant "whatever you say, boss", and after testing out a couple of questions that seemed to be the case… except it isn't always.
This morning I looked at my reviews and something didn't look right, so I did a little experiment. For simplicity I set all of my review times to 1 day.
I have reviews in one of the grammar collections called Conditional. I entered the response, saw those annoying pretty multicoloured buttons, pressed [Enter], exited the question and went to Manage the collection, and searched for the question. The review date is tomorrow. So far, so good.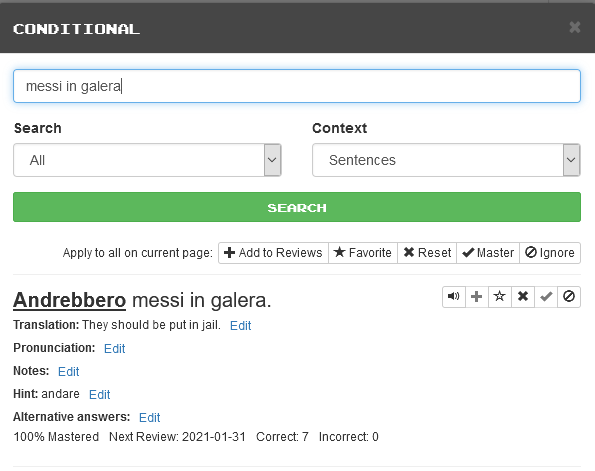 Another collection up for review was my custom "The World Of Work" one. I did the same test; answered the question, saw the pretty and annoying buttons, pressed Enter, and went to check the review date.
1 February. Which is NOT 1 day from now, it is double that. Not that I would normally HAVE this as 1 day from now; that was just for demonstration and it would normally be 90 days when I play this collection. However that's not the point. If I say 90 days, I don't want the system to declare "Oh, you don't mean 90 days, 180 will be fine."
So not only do we no longer have control over whether the pretty and annoying buttons appear, it seems to be random chance when it comes to what review date the [Enter] key will result in.
Could this be fixed, please?
(Yes, I know these things happen, yes, I know I shouldn't sound annoyed, but CM is usually the "first thing I do after getting out of bed" exercise and right now I can't risk doing any reviews at all because I have no way of knowing how far the reviews are going to be kicked down the field.)