Since using



which is a great addition, my 100% mastered have been added to my daily practice.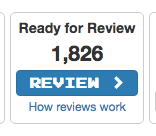 !!
Hello SuperMark! This issue is unrelated to Cloze-Reading. We recently fixed a bug where mastered sentences weren't coming up for review. The result, however, is that all your mastered sentences ready for review were added to your review queue all at once.
You can change your review interval settings via the custom settings button on the dashboard. We'll also work on getting a feature added so you can turn off mastered sentences being included in your review queue.
I'd also responded to your email, but wanted to reply here as well in case others have run into the same issue. Anything else we can do to improve Clozemaster please don't hesitate to let us know. Thanks!
Hi Mark,
You can kind of blame me for this, as it was me who reported the bug … unless Mike was already aware of it, that is.
If it is any consolation, my review count has increased from approx 400 to over 13,000 !!
Take care, Alex