"Why does Clozemaster (or Duolingo) improve/expand the content for popular courses such as Spanish and French while my target language is left behind?"
I have seen this kind of rant many times on the Internet. I always suggested them to manage their expectation based on the popularity (i.e. profitability for app operators). However, they just keep ranting on and on.
In order to convince them, I calculated how some language courses are so unpopular on Clozemaster and Duolingo.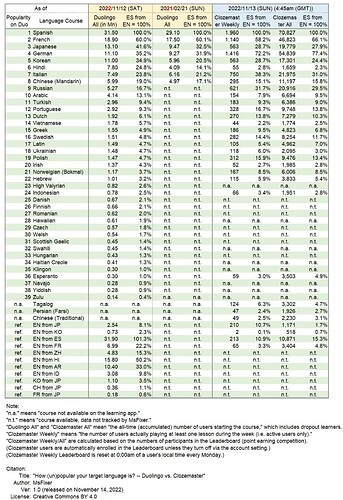 See Spanish and Russian on the list, for example. Russian on Duolingo ranks 9th with 16.7%. In other words, The Spanish course (the most popular) has a 6 times larger user base than the Russian course.
The only learners who are eligible to be demanding are Hindi. – Hindi has significantly gained new learners on Duolingo in the last 21 months, jumping up from 8th to 6th in popularity. However, Hindi on Clozemaster still has 2.8% against Spanish. Clozemaster should invest more time and effort in the Hindi course and its promotion to prospective users.
---
ETA: See the following two images if the full list in one page above is too small for you.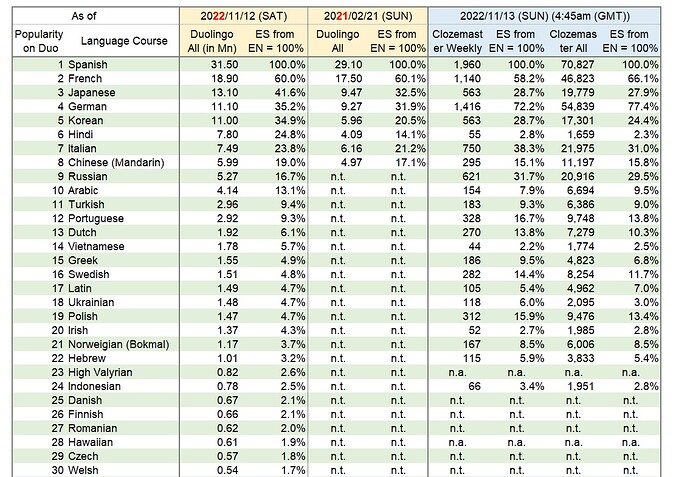 (list cont.)