I am learning Cantonese. Unfortunately, Tatoeba only has 2,886 sentences for this language.
I would like to add 3,500 of my own custom cloze sentences, but Cantonese is not supported in the custom cloze-collections beta. I can provide my custom sentences in any format.
As a workaround, I added Cantonese -> English sentences to a Danish -> English cloze-collection (Danish is supported in the beta). It seemed to work fine and could be a tolerable workaround for getting "Cantonese" custom cloze-deletions.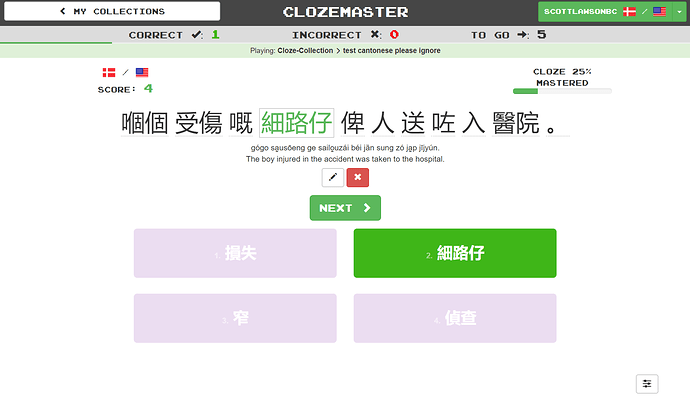 Downsides to this workaround:
Statistics would be a mess
Bold font used in Danish text detracts from legibility of Chinese characters
TTS must be disabled
Can Clozemaster enable support for Cantonese custom cloze-collections? Also, how technically challenging is this request? (just curious)
Interesting facts!
Cantonese (Yue) has 79 million speakers and 2,886 Tateoba sentences (27,373 people/sentence)
Danish has 5.4 million speakers and 21,361 sentences (253 people/sentence)
Clozemaster has far more Danish learners than Cantonese learners